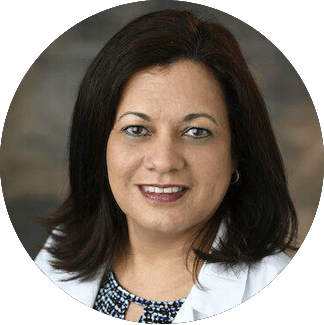 Urogynecology located in Oviedo, FL, Ocoee, FL
About Lucy Burgos
Lucidalia Burgos, MSN, BSN, ARNP-C, RDMS, is a board-certified nurse practitioner who has worked caring for the women of Central Florida in Oviedo and Ocoee for over 20 years. Passionate about women's health care, Lucy has been a proud member of the Bela Vida Urogynecology team since 2017.
Lucy earned her bachelor's degree in nursing from the Pontifical Catholic University of Puerto Rico in Ponce, Puerto Rico, in 1985. She went on to become a registered diagnostic medical sonographer under the supervision of a perinatologist. In 2016, Lucy pursued her master's degree in nursing, as well as her adult nurse practitioner certificate.
At Bela Vida Urogynecology, Lucy works closely with physicians Bela Kudish, MD, MS, FACOG, FPMRS. Lucy diagnoses, treats, and prescribes medications for both existing and new patients at the practice. In addition to these responsibilities, she performs urodynamics studies, pre-tibial nerve stimulation, bladder scanner, voiding trials, straight catheterizations, pelvic and transvaginal ultrasounds, POP Q exams, endometrial biopsies, pessary fittings, and many other minor surgical in-office procedures.
Lucy speaks fluent Spanish and English, making her accessible to patients from different backgrounds. She also belongs to a number of professional organizations, including the Society of Diagnostic Medical Sonography, the American Association of Nurse Practitioners, and the American Urogynecology Society.